Getting Started with Awesome Social
Welcome to Awesome Social
Just signed up for Awesome Social? ✨Hurray, Welcome on board!
We'll outline Awesome Social's key features to help you get started.
What is Awesome Social
Awesome social is an all-in-one social media management platform for social media marketing. Whether you are an
agency, a social media manager, a freelancer, or a business - with Awesome Social you can easily:

Schedule

and

publish

content across Instagram, Facebook, LinkedIn, Twitter and Pinterest.


Engage

with your audience with help of social inbox.

Create, upload

and

edit

media using

powerful AI tools

.


Drive Traffic

from all your different social profiles to your

Hey.bio




Analyze

your post-performance.


Collaborate with your team

members and bring all your people and content in the same place.
So, let's Kick-start your Awesome Social journey🙂:
Step 1 - Signup and verification.


If this is your first AwesomeSuite product, you'll receive a welcome email with a URL to validate your registration.



When you
sign up
for Awesome Social, you are asked to create a Workspace. After which, you need to create a Brand. You'll immediately see a pop-up where you can connect seven social channels to your Brand on Awesome Social.
Step 2 - Create a brand.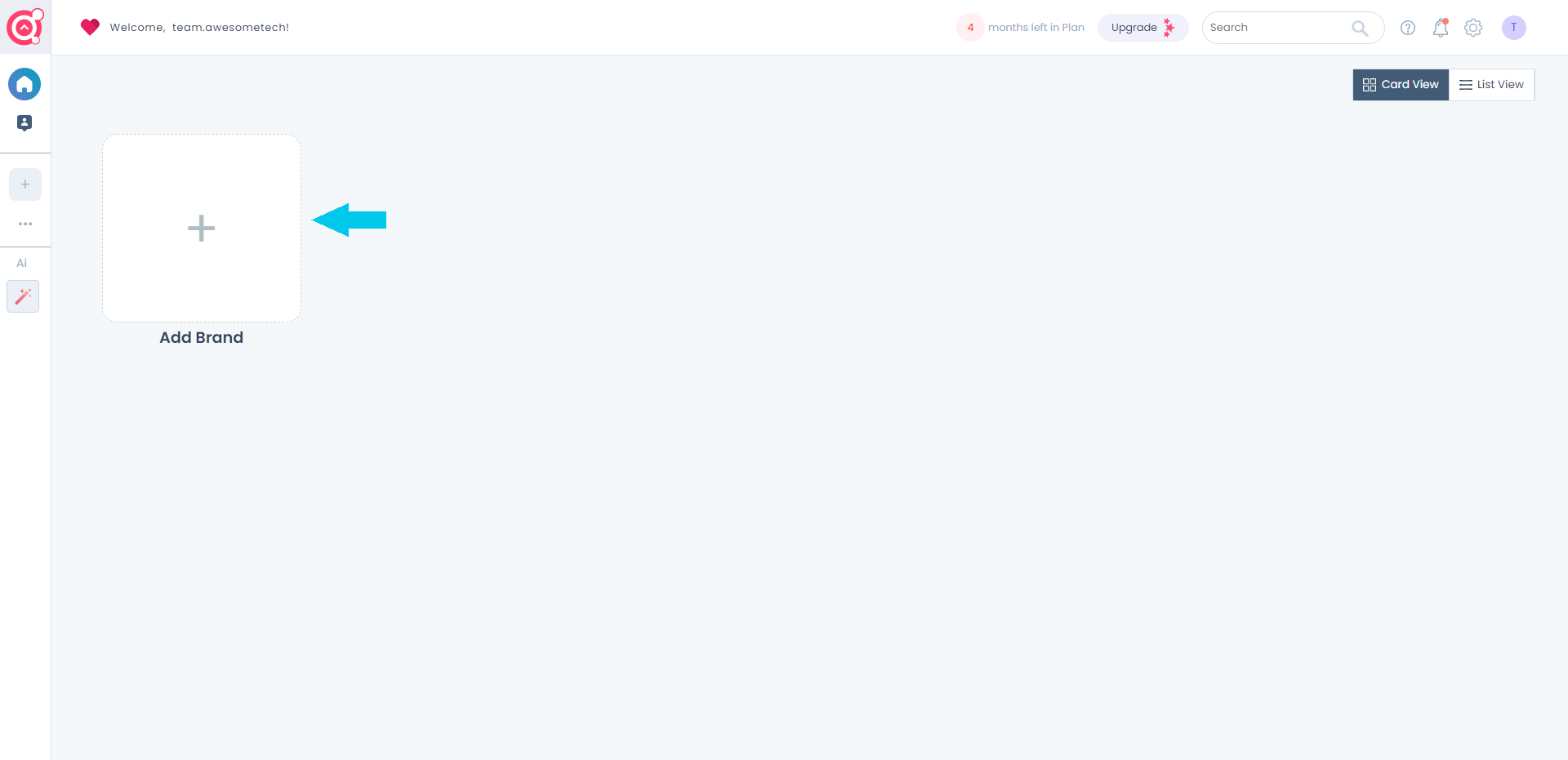 Create a brand
2) Give your brand a name example: "Nike", "Nutella" , "Apple"
3) Select a time zone associated with the publishing calendar. Every post that is scheduled for this brand would rely on this time zone and timing to publish your post. Click CREATE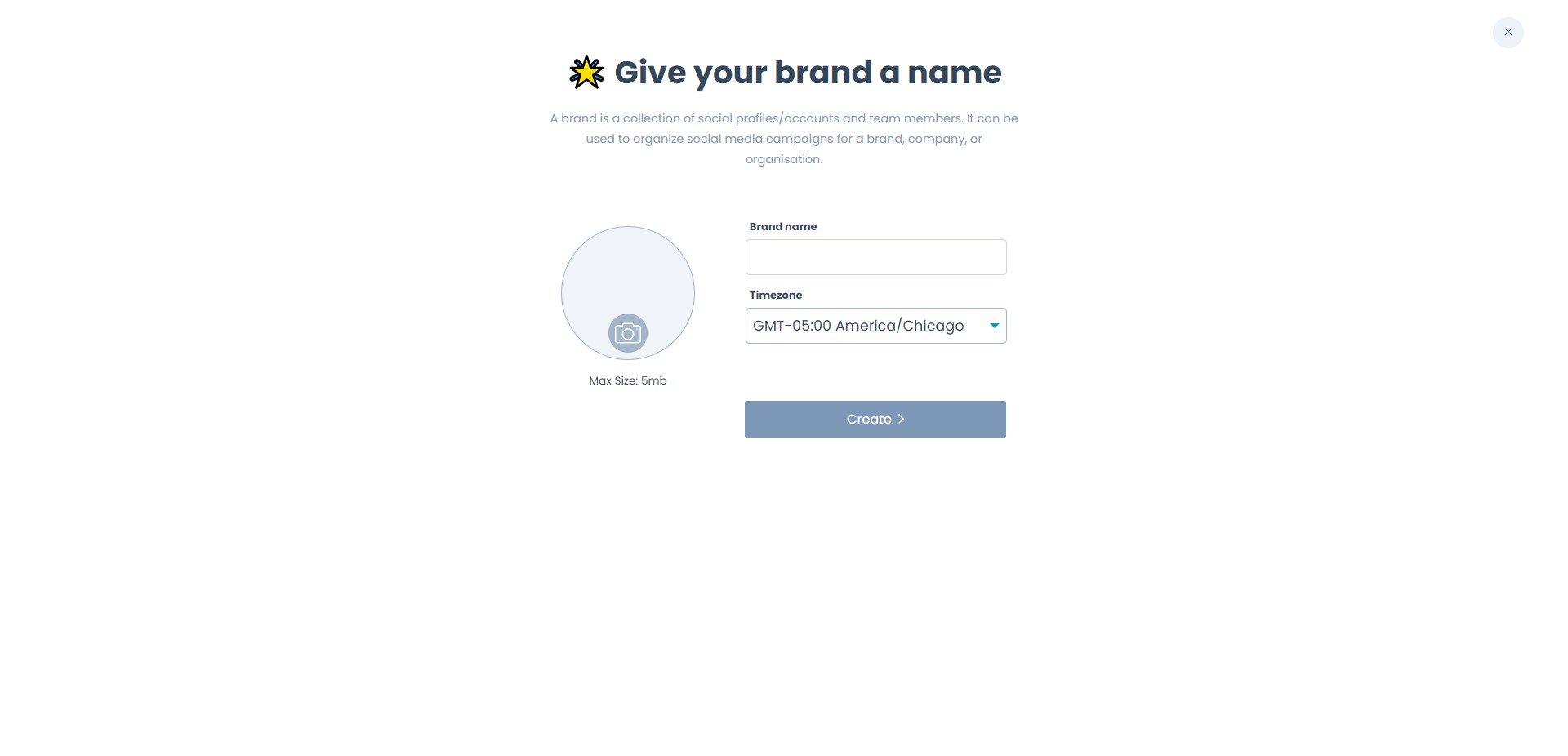 4) Connect Your Brands Social Channels: Here authenticate and connect your social profile accounts that you want to associate with this brand.

You can add and manage one each of the following social channels under a single
Brand
:
Instagram Business Profile

LinkedIn Profile


LinkedIn Company Page

Facebook Page

Facebook Group

Pinterest Profile


Twitter Profile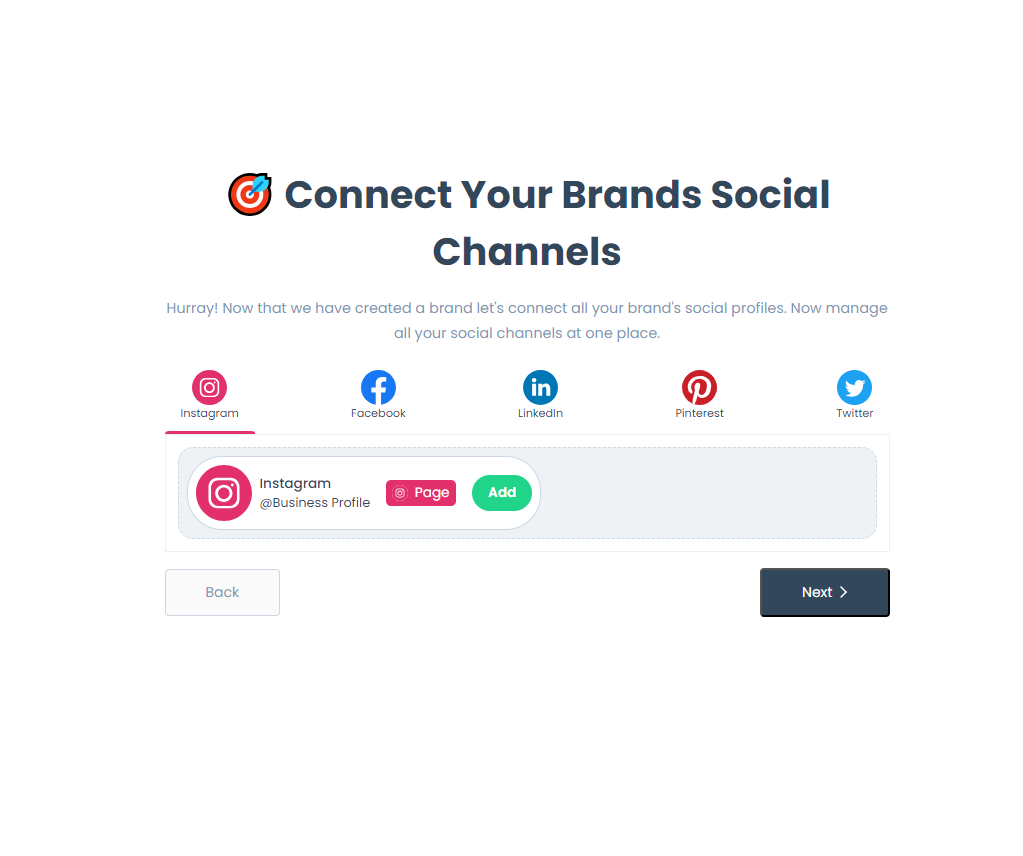 5) Invite your team: Your business and company may have people who help you manage you social marketing, if you are a freelancer or and agency then you may also have clients. Invite all the team member who would have access to these social profiles and assign then roles and permissions.

Simply enter their email address, if they are already on platform, you'll see them in recommendation.

6) Click FINISH

Step 3 - Working With Brands
You can set up multiple such Brands within your Awesome Social Workspace. Your Workspace houses all your
Brands
.

To manage more than one of any of these social channels—for example:

Two Facebook Pages or Two Instagram Profiles—you'll need to create a second Brand and connect these additional social channels.

Adding Your Social Profiles
To begin scheduling, you must first connect your social profiles.

To do this, click the + button one the side nav. You'll be asked to log in to the social profile. This will grant Awesome Social permission to publish and gather data for you.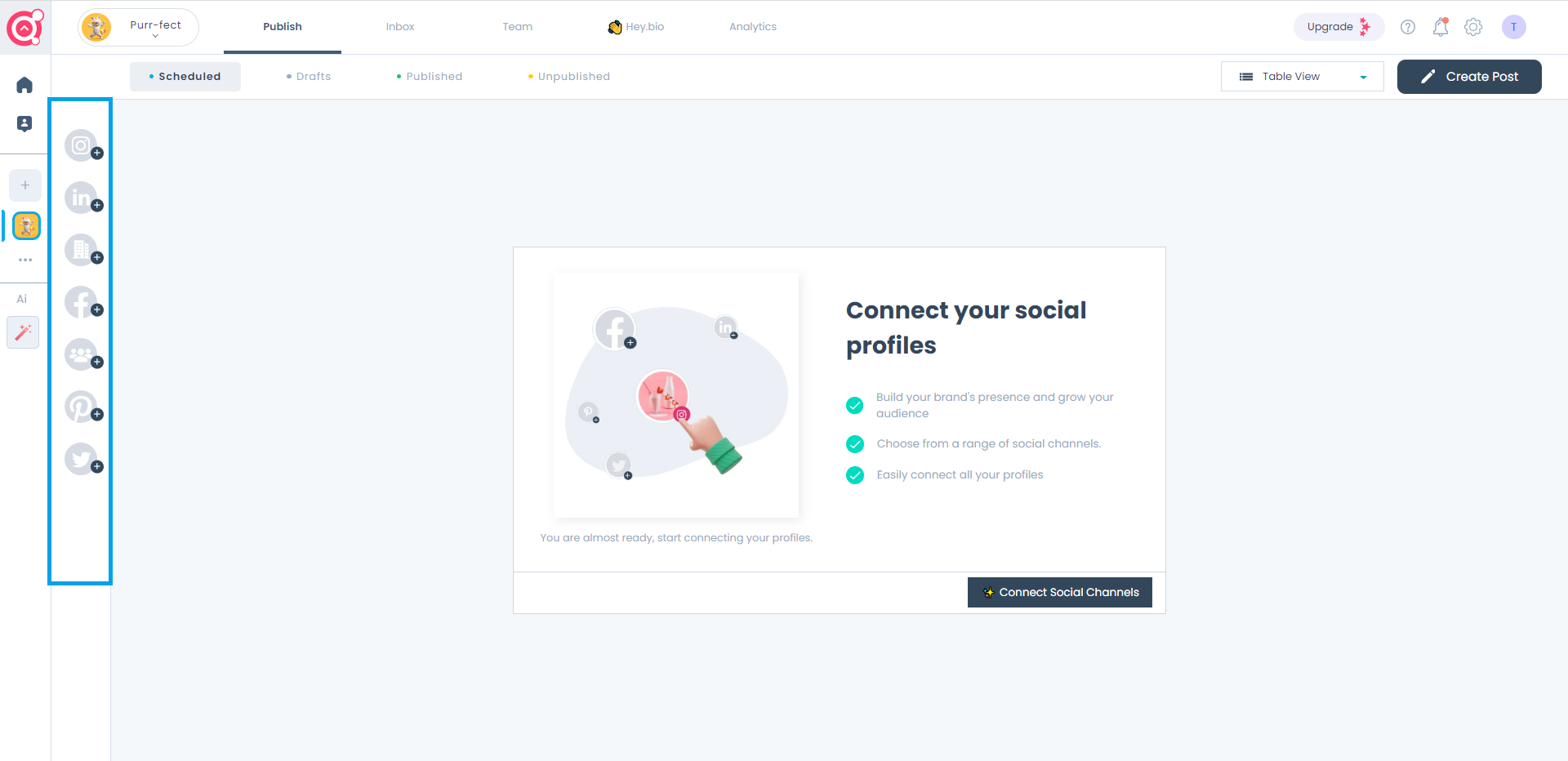 Connect Social


Schedule Your Posts
Awesome Social helps you plan your entire week (or months) in advance. You can schedule posts in advance in one go and forget about them.
Here's a quick look at how to schedule posts with Awesome Social:
Click on "Create Post" button on the navbar at the top.

A slider would open, here select the social profile that you your brand's post to be published on.

Write a caption, add hashtags and Upload your Media.
Publish Now or, select a specific time to schedule your post for later.


You could also, click the down arrow next to the Publish Now button > Save as Draft to save your post as a draft and come back to it later.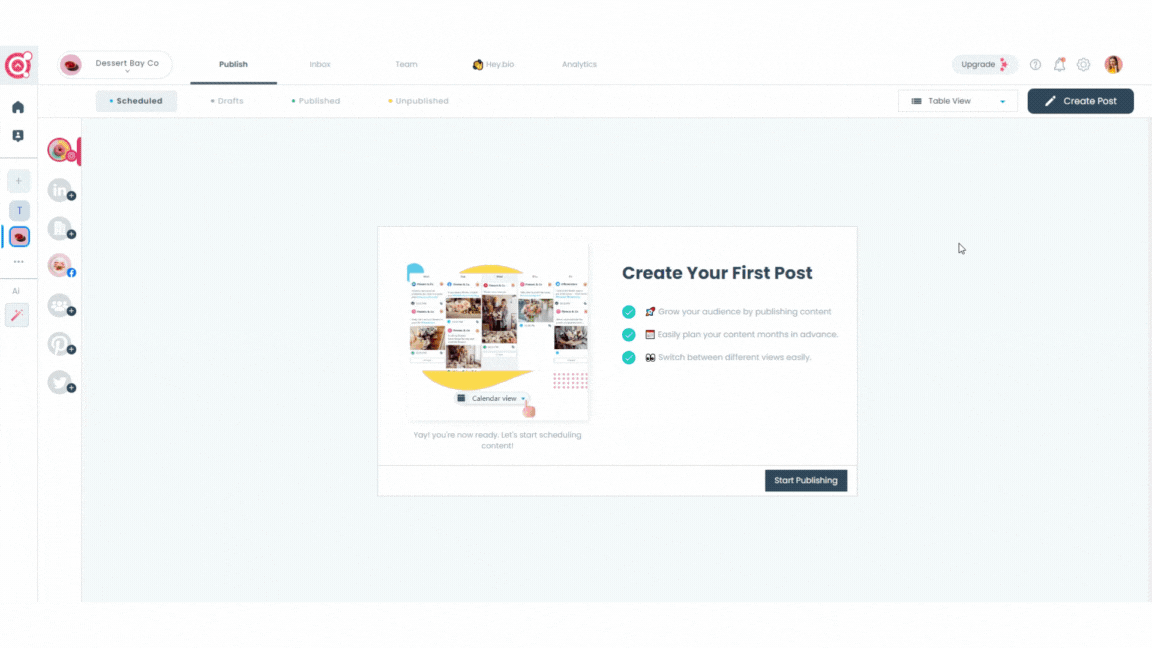 Schedule post
Plan and Visualize

Switch between different views to better visualize your content feed and release plan. Currently you get 5 Views with Awesome Social.
Calendar View



Feed View

Table View


Instagram Grid View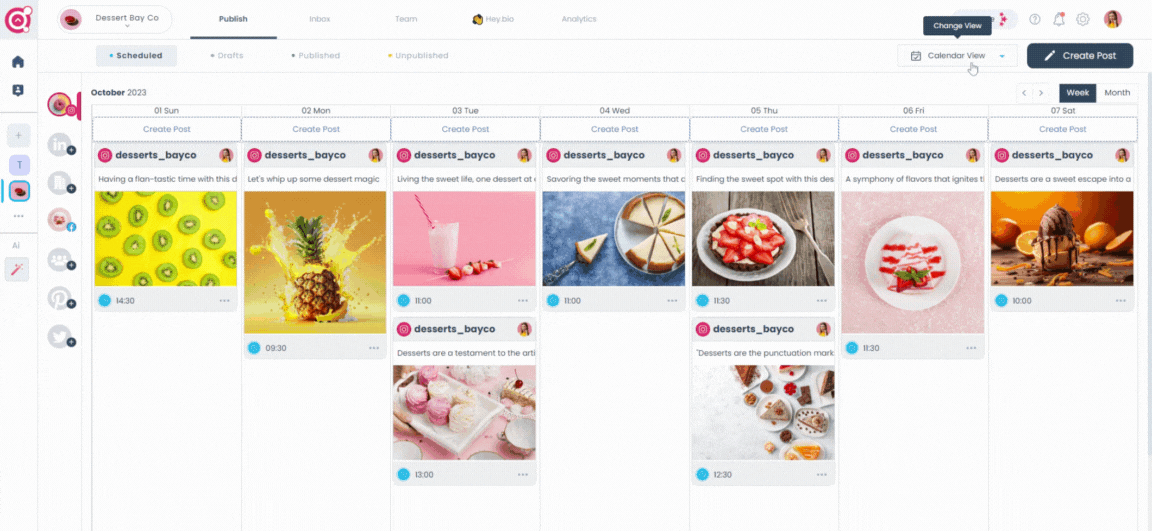 Plan
Adding your Team Members
You can add team members to you brand anytime.


Follow these Steps to add a Team Member to your Brand:


Hover over the brand you want to add team members to. You'll see the settings icon, Click "Settings"

Then navigate to the team section.

Enter the email address.

Mention their role

To invite more Team Members, click +

Add More Collaborators

Click the Add Members button.


Awesome Social will send these individuals an invitation to assist you in managing your Brand.

You may also add and manage Team Members in Awesome Social's Settings.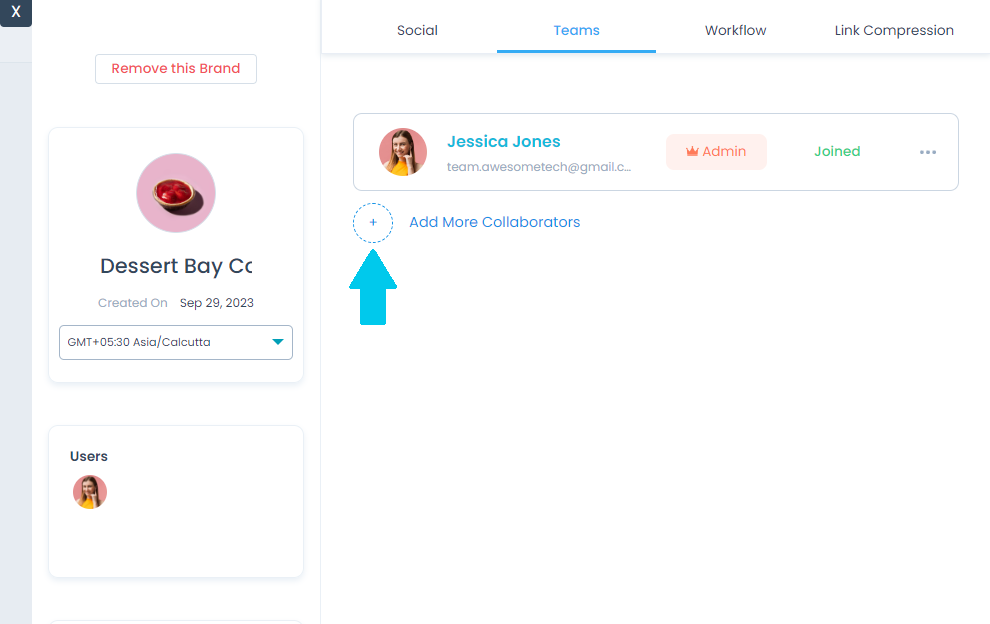 You are now ready to begin working alongside your team members. An example post with comments and internal notes is shown below. You can leave a comment on the right side; each comment is unique to each post.
You can contribute, exchange opinions, give ideas, and debate the post by writing a comment on the right side of the post, such as "Amazing Picture."
Following that, you might seek permission from your teammates or clients.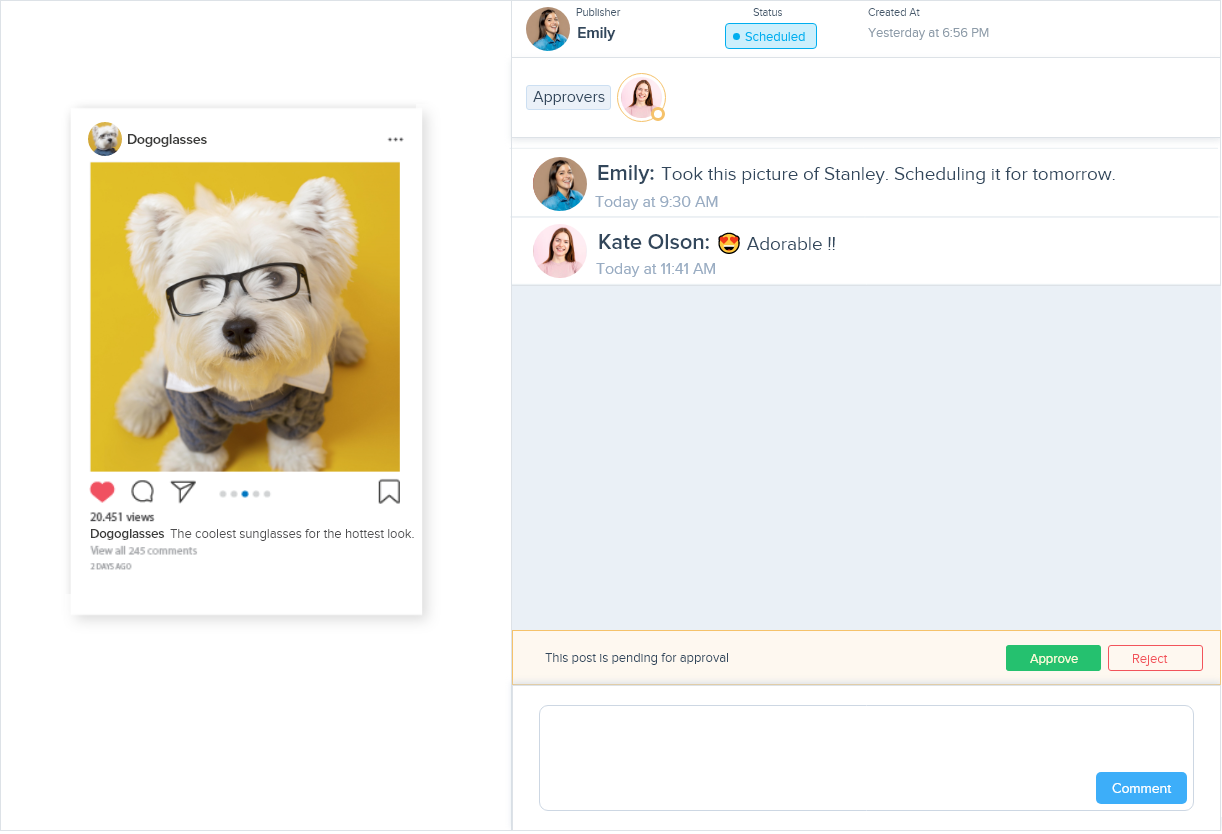 Team chat
Related Articles

Brand vs Workspace in Awesome Social

Brands, Workspaces and Organizations help us keeping you organized. Here is a small Flow to showcase how we structure everything in AwesomeSuite and Awesome Social. Brand, vs workspace vs organization What are Brands? Brands are Social Profile Sets ...

Connecting your Twitter Account to Awesome Social

Setting up your Awesome Social to post directly to Twitter handles is a breeze. Once you've set up your brand you'll be presented with this screen: Click on Twitter (+) icon and it should open up a page seeking your authorization to post to your ...

How to Authorise Awesome Social to post on Facebook Groups?

So you've connected your Facebook Group to your brand. There's one more step before you can start posting to your group. You need to allow Awesome Social some additional permission via your page in order for this to work. Important: In order for this ...

How do I Re/Connect my Social Handles to Awesome Social?

Connecting Social Handles to your brands is as easy as a pie. It takes about 2 mins to completely set and connect your various social handles to your brand. Let's walk you through it, shall we? Awesome Social lets you connect your social media ...